About us
Instead of serving dishes in courses, a Thai meal is served all at once, permitting diners to enjoy complementary combinations of different tastes. A proper Thai Food meal should consist of a soup, a curry dish with condiments, a dip with accompanying fish and vegetables. A spiced salad may replace the curry dish. The soup can also be spicy, but the curry should be replaced by non spiced items. There must be a harmony of tastes and textures within individual dishes and the entire meal. A good dining experience is never complete without the right ambience. Our restaurant located in Fremantle has been completed with a contemporary feel, complimented with traditional Thai artifacts rich in historical values in both our beautiful dining room, on the verandah and enclosed courtyard, definitely adds to a totally new dining experience. dining area. We highly recommend our courtyard dining area for that special occasion. Installed with reverse cycle air-condition, the courtyard dining area will always remain a cozy and almost lazy atmosphere ~ whether in summer or winter.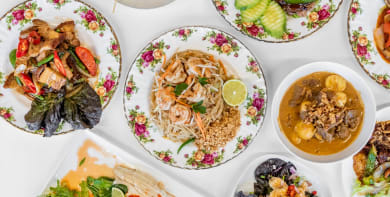 Reviews
38 reviews
Barbara
"Service was great, food was ready ahead of time. It's possible that the dishes we chose weren't the restaurants best dishes as there are plenty of good reviews ."
15/05/2020
Peter
"Great quality, flavour and overall service."
10/05/2020
Shannon
"Delicious food always great service"
8/05/2020
Linda
"Delicious food as always, thank you"
26/04/2020
Menu
Red Curry
Red curry with choice of vegetables, beef, pork or chicken
$19.00
Roast Duck Curry
Sliced roast duck red curry with cherry tomato and lychees
$31.50
Gang Gai
Tender chunks of chicken breast curry
$23.00
Massaman Beef Curry
Red massaman beef curry with potatoes and peanuts
$24.00
Panang Curry
Dry style red curry
$19.00
Fried Dumpling (Money Bags) (2 Pcs)
Fried dumplings of pork and prawn mince accompanied by sweet chilli and peanut sauce
$9.60
Chicken Satay (3 Pcs)
Skewered sticks of chicken fillet served with thick peanut sauce
$12.00
Vegetables Spring Rolls (2 Pcs)
Vegetables spring rolls deep fried and accompanied by sweet chilli sauce
$7.20
Prawn Wrapped (3 Pcs)
Prawns wrapped in spring roll skin and vegetables served with sweet chilli peanut sauce
$14.40
Tofu Tod
Deep fried tofu served with sweet chilli, peanut and coriander sauce
$7.50
Curry Puffs (3 Pcs)
Puffs filled with mild curry served with sweet chilli sauce
$7.50
Pad Sie Aiew
Thin flat rice noodles stir fry with bok choy, egg, chicken and dark soy sauce
$18.00
Pad Thai Noodles
Thin flat rice noodles with beansprouts, egg, chives, peanuts and choice of chicken or prawn
$18.00
Fried Rice
with egg, onions and peas. Choice of chicken and prawns
$18.00
Tom Yum Prawn
Spicy and sour prawns soup with lemon grass and mushrooms.
$14.20
Tom Yum Chicken
Spicy and sour chicken soup with lemon grass and mushrooms.
$12.30
Tom Yum Pak
Spicy and sour vegetables soup with lemon grass and mushrooms.
$9.80
Tom Kha Gai
Rich creamy coconut soup with chicken & herbs.
$12.30
Tom Kha Hed
Rich creamy coconut soup with mushrooms & herbs.
$9.80
Stir Fry Pork Fillet
with chilli paste and runner beans
$22.00
Squid Stir Fry
with chilli jam and basil
$23.00
Beef Stir Fry
Stir fry beef with bamboo shoot and chilli
$24.00
Sweet and Sour Stir Fry
with vegetables. Choice of tofu, chicken or fish
$19.00
Beef and Broccoli Stir Fry in Oyster Sauce
$24.00
Prawns with Baby Corns & Snow Peas Stir Fry
$35.00
Mixed Vegetables Stir Fry
$19.00
Seafood Stir Fry
with basil, chilli & green peppercorn
$34.00
Ginger and Paprika Stir Fry
with choice of chiken or fish
$23.00
Chicken Stir Fry (Med)
with cashew nuts, mushrooms and dried chilli
$24.00
Garlic and Pepper Stir Fry
Stir fry with garlic and pepper with choice of beef, pork, chicken or prawn
$19.00
Squid Salad (Yum Plaa Muek)
$23.00
Grilled Beef Salad (Scotch Fillet)
$25.00
Chicken Salad (Larb Gai)
Spicy mince chicken breast salad.
$23.00
Black Rice
Black glutinous rice served in coconut milk
$6.00
Durian and Sweet Sticky Rice
Sala Thai's very own steamed glutinous rice served with durian in coconut milk
$8.00
Sago
Steamed tapioca pearls served in coconut milk
$6.00
Grilled Marinated Beef (Scotch Fillet)
Served with spicy hot sauce.
$25.00
Prawns Stir Fry with Cashew Nuts
Served with sweet and spicy tamarind chilli sauce.
$35.00
Som Tam
Raw green paw paw salad with carrots, green beans, tomatoes and red chilli with sweet, mild and sour dressing topped with roasted peanuts.
$19.00
Contact us
Find Us
22 Norfolk st, Fremantle, 6160
Opening Hours
Tuesday
6:00 PM - 9:00 PM
Wednesday
6:00 PM - 9:00 PM
Thursday
6:00 PM - 9:00 PM
Saturday
6:00 PM - 9:00 PM
Please note, delivery times may vary.
We deliver to
6158 East Fremantle, 6160 Fremantle, 6162 South Fremantle