About Us
Instead of serving dishes in courses, a Thai meal is served all at once, permitting diners to enjoy complementary combinations of different tastes. A proper Thai Food meal should consist of a soup, a curry dish with condiments, a dip with accompanying fish and vegetables. A spiced salad may replace the curry dish. The soup can also be spicy, but the curry should be replaced by non spiced items. There must be a harmony of tastes and textures within individual dishes and the entire meal. A good dining experience is never complete without the right ambience. Our restaurant located in Fremantle has been completed with a contemporary feel, complimented with traditional Thai artifacts rich in historical values in both our beautiful dining room, on the verandah and enclosed courtyard, definitely adds to a totally new dining experience. dining area. We highly recommend our courtyard dining area for that special occasion. Installed with reverse cycle air-condition, the courtyard dining area will always remain a cozy and almost lazy atmosphere ~ whether in summer or winter.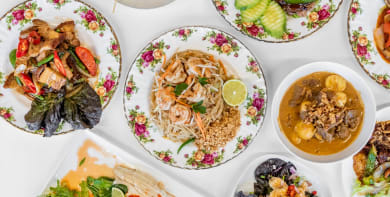 Menu
Contact Us
Find Us
22 Norfolk st, Fremantle, 6160
Opening Hours
Tuesday
5:15 PM - 8:30 PM
Wednesday
5:15 PM - 8:30 PM
Thursday
5:15 PM - 8:30 PM
Saturday
5:15 PM - 9:30 PM
Please note, delivery times may vary.
We deliver to
6011 Cottesloe, 6011 Peppermint Grove, 6012 Mosman Park, 6150 Winthrop, 6154 Alfred Cove, 6154 Booragoon, 6154 Myaree, 6156 Attadale, 6156 Melville, 6156 Willagee, 6157 Bicton, 6157 Palmyra, 6158 East Fremantle, 6159 North Fremantle, 6160 Fremantle, 6162 Beaconsfield, 6162 South Fremantle, 6162 White Gum Valley, 6163 Bibra Lake, 6163 Coolbellup, 6163 Hamilton Hill, 6163 Hilton, 6163 Kardinya, 6163 North Coogee, 6163 Oconnor, 6163 Samson, 6163 Spearwood, 6166 Coogee